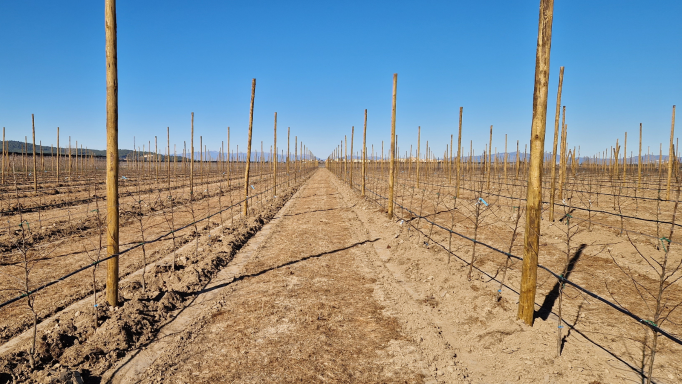 02/02/2023
Giropoma starts planting new apple tree farms, which will last until March
This month, Giropoma has started the planting of new apple farms, which will take 1 and a half to 2 months, depending on the weather. Everything will depend on the rainfall during the next weeks, which could make it impossible to access the worked fields for a few days.
Prior to planting, the company's producer-partners have prepared the land by working the soil to make it suitable for the trees. When the field is prepared, soil preparation compound is generally applied to improve organic matter and to favor nutrients for the plants.
Subsequent to the soil work, the location of the poles and anchors, which will form the structure of the farm, and the irrigation system are marked.
Subsequently, a trench is opened between the poles where the roots will be buried, and the wires that will support the apple trees are placed, together with the wires that will fix the trees.
Finally, the apple trees are planted and the nets are installed, which are mainly used to prevent hail damage, sunburn and help mitigate the wind.
As for the varieties that are decided to plant, they are chosen according to the needs of Giropoma and the grower, who is advised by the company with the aim of continuing to offer the best apples to consumers.
For Giropoma, teamwork and communication with grower-partners are essential to obtain good results and to guarantee quality and service.